Welcome
07 Jun 2022

2 Minutes to read
Welcome
Updated on 07 Jun 2022

2 Minutes to read
---
Share feedback
Thanks for sharing your feedback!

Welcome to ancoreShare Server
Manage all your Qlik insights from one point.

Simple. Scalable. Smart.
ancoreShare lets you generate custom reports within your Qlik environment.
Quick to create, easy to share, and fully customizable
to reflect your brand's unique style.
---
Full documentation set coming soon!
Enterprise-Ready Static Reporting For Qlik
ancoreShare enables you to share complex information and insights with a large group of people. It helps you easily manage all your Qlik insights from one point. Whether it's analyzing the data to gain new business insights or creating reports for executive management, this software is a powerful tool that will make your life easier.
Get the most out of your Qlik data with an enterprise-ready, static reporting system that can be deployed in minutes.
Easy roll-out

Simple in use

Enterprise-ready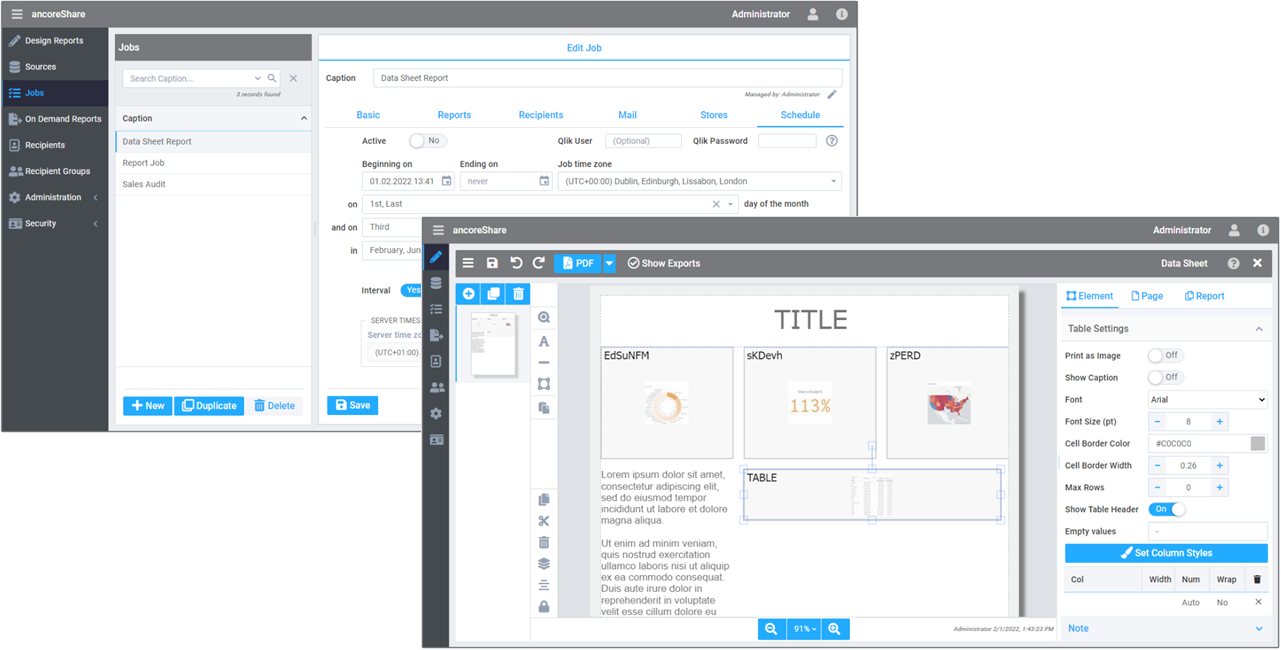 Proven
Security standards and enterprise requirements are field-tested, continuously audited, and proven in technical due diligence investigations by industries like big pharma, telecommunication, transport, and production.
Unlimited scalability enables ongoing growth and expansion, wherever needed.
Benefits
Simple Set-Up
Multi-Node Concept for True Parallel Tasks Processing
Integrated Designer
Collaborate from Everywhere
Automated Jobs
On Demand Reports
Recipient Storage
Powerful Features
Highly Scalable
Central Design & Management

Flow



Compose

Collaborate

Share

pixel-perfect, high-resolution reports with data from Qlik Sense and QlikView, in a web-based Graphical Designer

from everywhere, and share exports, with scheduled Jobs and alerting functionality, or on-demand

in many different formats, to many different stores and destinations, for unlimited users and recipients.
Features
Scheduled Jobs and alerting functionality
External link access for on-demand reports
Recipient groups and stores
FTP, Dropbox, and Network share
Exports via Email with embedded PNG images
Template support for Excel and PowerPoint
And many more ...
Designer
Integrated and modern graphical designer
Web-based WYSIWIG, simple drag & drop
Real-time collaborative design process so teams can deliver better reports, faster
Pixel-perfect and high resolution
Multipage report designs with page cycle
Flexible formatting of multipage tables and pivot tables, repeating headers, and conditional formatting down to each cell
Free table positioning
Microsoft Office or additional installation NOT required for report design process or export generation
Qlik Expression support
Import/export designs between instances
And many more ...
Technical
Seamless Qlik App security integration (e.g. section access)
Installation on the same machine as Qlik Server is optional (only needs HTTPS connection to Qlik, no internet or specific location required)
Multiple instances on one machine are possible
100% centralized, web-based user interface (no desktop app)
Users and designers can work from anywhere (only needs HTTPS connection to ancoreShare Server, no access to internal network zone necessary at any time)
Embedded MongoDB like database (no additional database installation or management necessary)
Integrated high performant OWIN webserver
No internet connection required
No additional local client software installation required (no Microsoft Office installation on server or client machine required)
Integrated multi-user and authorization management
Seamless Active Directory integration (no import necessary)
Qlik users assigned to sources (ancoreShare Server users or recipients do not need Qlik users)
And many more ...
NPQ-Reports
Looking for NPQ-Reports?
The NP family of products are now part of ancoreSoft and got new names - but don't worry, nothing got thrown overboard! After a management buyout, we have a new captain, and the hull's been given a new coat of paint – but it's still the same sturdy ship and capable crew. All the features you knew and trusted are still there, in addition to some great new features and ideas. So you can count on continuity and look forward to things getting even better with ancoreSoft.

Now, are you ready?
Then let's Get Started!
---
Next Steps
---
Was this article helpful?
---
What's Next