Sharing Reports - Export Settings
24 Jan 2023

6 Minutes to read
Sharing Reports - Export Settings
Updated on 24 Jan 2023

6 Minutes to read
---
Share feedback
Thanks for sharing your feedback!
Intro
ancoreShare Extension provides you multiple choices for sharing your reports. You can choose the way to share depending on your organization's needs and constraints. ancoreShare adapts to your needs by offering you the most appropriate sharing solution.
You can enable direct downloading or share your reports via email, upload them to Dropbox, or use a JavaScript API to directly feed a web dashboard or do with it whatever you are capable of. Further you can export all table elements as data only or copy your entire report page as an image to your clipboard.
There is no restriction on the type of sharing or export options you choose. You can configure one or multiple options for sharing your report provided with ancoreShare Extension. Once a report is generated, it will be shared across all the channels (options) that you define.
The following sections explain the export settings and how to export your reports.
Sharing Options
To configure the export settings, perform the following steps.

On your Sense sheet, select the ancoreShare button for which you want to configure export settings.
On the properties panel, click Export Settings.
You can choose any of the following options.

There's also a special feature within the preview window to download or copy the current report page as image.




General

ancoreShare Extension shows a popup when you generate a report for export. It gives an insight into what process is happening in the background, how many objects are there in the report, and which object or element is being processed currently.
The popup shows the number of

Qlik objects available in the report, along with the number of objects processed so far, and the status of the remaining steps.


You can configure the amount of information that you want to see on the popup using the General settings.
You can select any of the following options.

Show steps and elements: Displays the steps of processing and also shows the caption of the element being processed.
Show elements only in edit mode: Also shows the steps but displays the name of elements only when the report is generated or previewed in the Edit mode of the Sense sheet.
Show steps only: Displays only the number of steps being processed.

The following image shows the popup with the Show steps and elements option selected. Here, you can see that 5 out of the total 8 objects have been processed, and currently, a Barchart is being processed.














PDF Security

Securing PDF reports is important to maintain the integrity of organizational information. All organizations want to secure sensitive information and control PDF permissions.

The Adobe PDF option comes with built-in password protection mechanisms provided by ancoreShare Extension.
You can also specify the user permissions to allow or restrict PDF operations on the report file.

See the PDF Security section to learn more.

Download

Downloading and emailing/sharing reports is one of the most popular ways of distributing reports across most organizations. ancoreShare Extension allows you to download your reports directly from the browser where you are viewing reports in your Sense sheet.

If this option is selected, the PDF or PPTX file is automatically downloaded to your device by clicking the ancoreShare button on your Sense sheet.

This is enabled by default.




Data Export

Data forms the base of all the insights derived from your reports. You may want to use the data shown in your reports elsewhere for calculations or as a source for some other tools or reports like in your Excel environment. Using the Data Export feature, you can enable the extraction of pure data out of all the Table elements in your report in form of Excel or CSV files.

Learn all about this feature in article Data Export.




Preview Window

Enable the preview window option to see a draft of your report in the Preview window before exporting/emailing/downloading the report.

When this option is enabled, the preview window opens by clicking the ancoreShare button on your Sense sheet. You will see a preview of your report before it is downloaded, emailed, or exported to Dropbox, but it will already show the actual image resolution you set (in edit mode it only shows draft quality).

You can also make any last-minute changes, e.g. on the selections in your Sense sheet, and click the refresh button to view the new preview of the report. Once you are sure of the content, you can proceed to download, email, or export the report however you like.

See the Preview Window section to know more about all the other cool options available with it.




E-Mail

As mentioned above, emailing reports is still one of the most popular ways of sharing information among teams and stakeholders across organizations.

You can send emails by clicking the ancoreShare button on your Sense sheet. All you need to do is, configure your mail provider from Sendinblue or ancoreShare Server, and optionally specify your recipients and email content, and you are done!

You can choose if a preset email is sent automatically with the generated report or if you allow to Show E-Mail Dialog to the user to make changes to the email before sending it. If this option is enabled, you will see an email icon on the preview window header. You can use it to open the email dialog there too.

See the Emailing Reports section to learn how to configure the mail providers and learn more about the email dialog.




Dropbox

This is another cool feature that allows you to upload your reports to a Dropbox folder. If this option is enabled and configured, clicking the ancoreShare button on the Sense sheet generates the report and automatically uploads it to the Dropbox folder specified here.

If this option is enabled, you will see a Dropbox icon on the preview window header. You can use it to upload your report to the specified Dropbox path from there too.

See the Dropbox section to learn how to configure the folder for export.







ancoreShare Store

This section offers a link between ancoreSofts two reporting tools ancoreShare Extension and ancoreShare Server.
It enables the user to export the generated report file(s) directly to the ancoreShare Server Recipient Store.

Enter multiple Stores (Recipient Emails) separated by comma.




Custom Export

As the name suggests, this option allows you to access the generated report file via JavaScript and share it on a website, an intranet portal in your organization, or just about anywhere you want. Depending upon your expertise, you can use the expression editor to access the JavaScript API provided by ancoreShare Extension there.

When this option is configured, clicking the ancoreShare button on the Sense sheet will generate the report and then execute the specified JavaScript code.

See Custom Exports With JavaScript for details on how to configure it and see some great examples.



Exporting reports
Once you have configured the Export Types and the Export Settings, you can quickly export the report files using the ancoreShare button.
For this, navigate to your Sense sheet, and click the ancoreShare button corresponding to the report that you want to export.
The report is being generated and exported according to the settings specified.
If you are in Sense Edit mode:

Select the ancoreShare Extension button.
Click the Report Elements tab, and select Adobe PDF, PowerPoint PPTX, or Data Exports only from the drop-down list.
Click Execute Draft.

Your report is exported according to the defined settings.



Note that if the preview window is open, you will only see the updated draft of your generated report, and you have to trigger the export manually with the provided icons in the taskbar of the preview window or switch to Life Draft mode.
See the Preview Window section to learn more about working with this tool.
Here's a sample PDF report downloaded from ancoreShare Extension: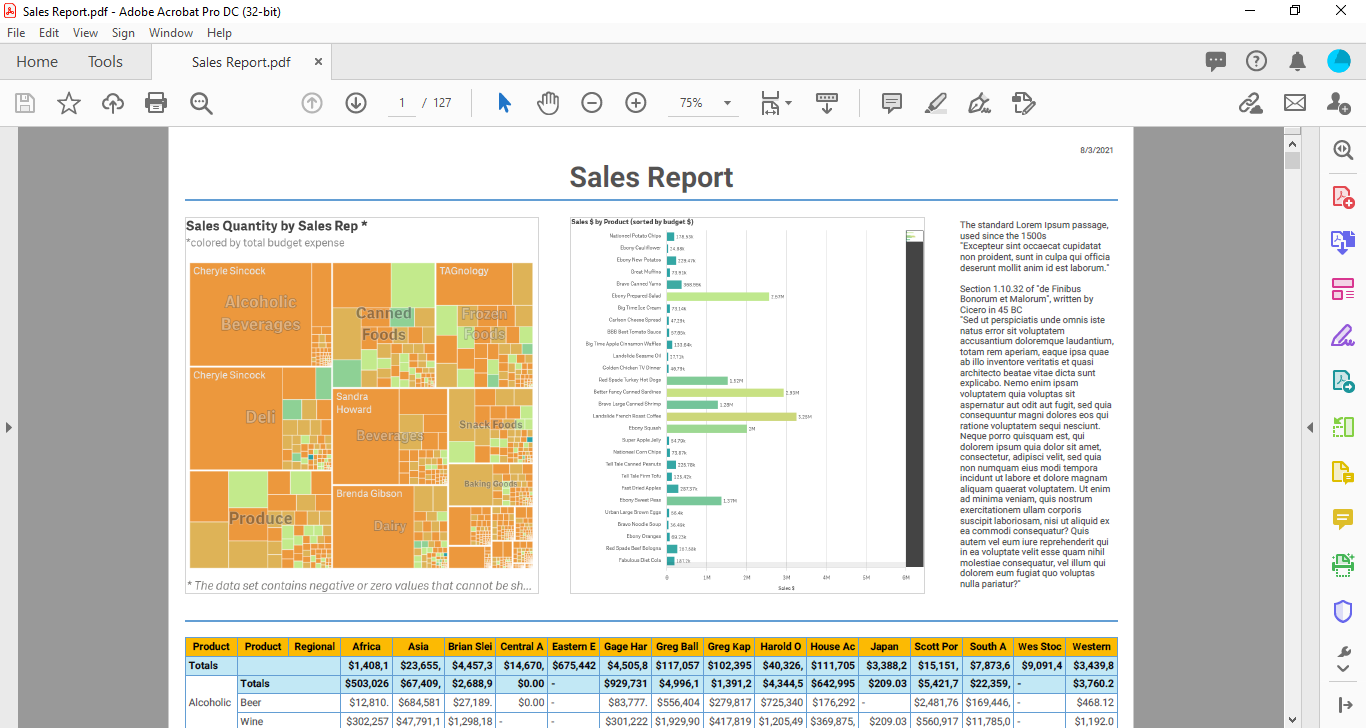 Downloading or copying the report page as image
In addition to the export options explained above, there's also a special feature within the preview window to download or copy the current report page as PNG image.
---
Next Steps:
---
Was this article helpful?
---
What's Next