Welcome
15 Mar 2022

3 Minutes to read
Welcome
Updated on 15 Mar 2022

3 Minutes to read
---

Welcome to ancoreShare Extension
Share your insights straight out of your Qlik App.

Ad Hoc Reporting For Qlik
---
Get your whole crew on board - easy reports ahoy!
ancoreShare is an Extension for Qlik Sense.
It lets you generate custom reports within your Qlik environment. Quick to create, easy to share, and fully customizable to reflect your brand's unique style.
Supported for all Qlik Sense editions (Cloud, Server, and Desktop), you can quickly create a single report from all the Qlik Sense sheets of an app, and configure it to automatically send them as PDFs and PowerPoint presentations over email (via Sendinblue or ancoreShare Server). You can also create a single personalized report from multiple Qlik Sense sheets and design it the individual way you need.


Preview Window
Export to PDF
Multiple pages, Table with repeating header

Export to Microsoft PowerPoint
Here's some more - you can download the reports to a device, upload and share them on Dropbox, or use the Custom Export feature to access it via JavaScript API and share it as per your business requirements. Use ancoreShare Extension to share your Qlik Sense insights quickly and easily, and to help users see and understand data faster with customized mobile and print-ready reports.
Here's how ancoreShare Extension works:



Features and Benefits
Integrated into the Qlik Sense applications as a button for ease of use and access by the Qlik Sense end users.
Quick installation without the need for additional components.
On-demand creation and sharing reports with no dependency on embedding the Qlik link.
Properties for alignment and positioning of the objects. You can further define the size, colors, and other design elements for the objects in your report.
Multi-page reports and flexible positioning of the objects.
Email reports via built-in ancoreShare mail server or Sendinblue mail server.
Use

objects

from multiple sheets from the same Qlik Sense app in a single report.
Who should read this documentation?
This document is intended for Qlik Sense users, responsible for creating and sharing reports.
Before reading this guide, you are expected to have a basic understanding of the Qlik Sense sheets and dashboards. In addition, familiarity with designing reports would be helpful.
Goals of this documentation
After reading this guide, you should know the following information.
How to create ancoreShare reports
You will learn how you can quickly create reports from the Qlik Sense interface. Add as many elements to the report as you want and choose which Qlik Sense Objects they should be. You can also add your custom text and Qlik Expressions, and create astonishing reports within minutes. Besides this, you can also combine insights from multiple charts and tables in a single report. See the Designing Reports section to know more.
How to customize ancoreShare reports
You will learn how you can customize the look and feel of your reports. You can choose custom sizing, positioning, margins, colors, image quality for charts, and many more in your report, and also very comprehensive styling options for tables. ancoreShare allows you to accurately customize the design even at the pixel level. Moreover, you can design and customize report data and presentation at runtime using parameter-based expressions. See the Report Elements section to know more.
How to share ancoreShare reports
You will learn how to share your reports as high-quality PDF files or PowerPoint presentations, without depending on the Qlik Sense embedding options. You can quickly download the reports on your devices, email them to your teams, save them to Dropbox, or use the API and run some JavaScript to export it wherever you want to. See the Sharing Reports section to know more.
Getting help
ancoreShare provides several ways to learn how to use the available features.
There are tooltips and other help items available throughout. Hover the cursor over various settings on the properties panel to see the available assistance.
You will also see clickable question mark icons along with the settings. Click it to quickly get to the corresponding help page.
NPQ-Reports
Looking for NPQ-Reports?
The NP family of products are now part of ancoreSoft and got new names - but don't worry, nothing got thrown overboard! After a management buyout we have a new captain, and the hull's been given a new coat of paint – but it's still the same sturdy ship and capable crew. All the features you knew and trusted are still there, in addition to some great new features and ideas. So you can count on continuity and look forward to things getting even better with ancoreSoft.

Now, are you ready?
Then let's Get Started!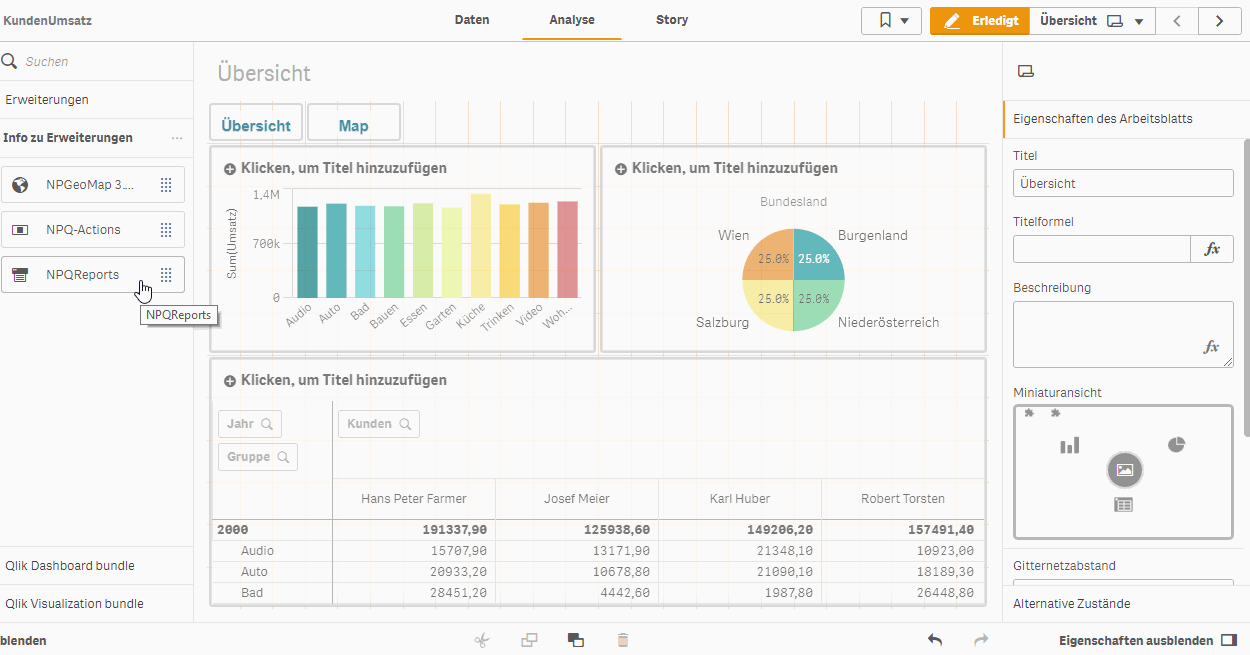 ---
Was this article helpful?
---
What's Next